Digital X-rays Huntington Beach CA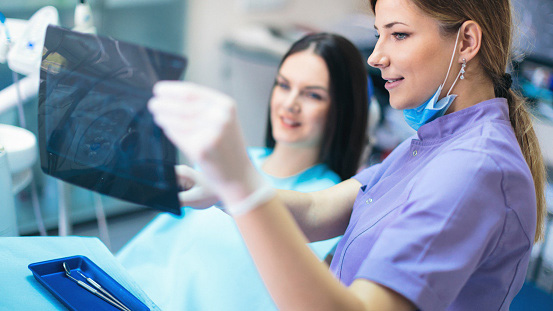 X-rays are typically done digitally instead of the conventional method which used film. Our patients may be unfamiliar with digital x-rays, but they are in fact safer, quicker and more accurate. They can help our professionals detect complications in the early stages and more deeply investigate issues with the jaw and bone structures of the face. Surf City Oral and Maxillofacial Surgery uses digital x-rays to offer better treatment and technology to our patients to give them faster results.


How Does it Work?

Instead of using film to develop an x-ray, digital x-rays use direct digital transfer; the images are uploaded to our computer system. This is a quick process, and we can begin analyzing the image almost immediately. To capture the x-ray image, our oral surgeon will use a hand-held device that will be placed either inside or outside the mouth, depending on what our team is trying to capture. If our team wants to look at specific teeth, a dental arch, or anything up close within the oral cavity, our professionals will place the sensor inside the mouth. If our team wants to capture an image of the jaw, the wider structure of the oral cavity, or the salivary glands, our professionals will place the sensor outside the mouth. When we activate the sensor, it emits a low amount of radiation which is absorbed by our patients' tissues at different rates, creating an image. Our professionals use the lowest possible amount of radiation in order to get the best quality image achievable. Our patients will never be subjected to more radiation than they need to be.


Why Are Digital X-Rays Better?

Digital x-rays have multiple features that allow it to achieve better results. First, the use of digital transfer, compared to film, means that our team does not have to wait for the x-ray image to develop, allowing our professionals to give our patients a quicker diagnosis. The grayscale (the differences in the blacks, whites and greys) on a digital x-ray is larger. This adds greater depth to the image, and this means that our team can more thoroughly investigate the image for discrepancies in our patients' oral health. The digital x-ray also uses up to 80% less radiation, so it is safer than the conventional method. Digitally transferring the x-ray image means that our team can use photo editing tools to enhance our findings. Through options such as contrasting and brightness, our professionals can edit the x-ray to bring out parts of the image that were unidentifiable before. This is not possible with conventional x-ray images. Digital x-rays are also easier to store, as it is all done digitally. Our team can easily compare x-rays for reference on how treatment progress is going. It also means that when our patients relocate, our team can quickly transfer our patients' medical data to the next office.

Surf City Oral and Maxillofacial Surgery uses digital x-rays to improve the quality of our treatment and diagnosis for our patients. It is a quicker, safer and more accurate way of detecting issues with our patients' oral health. To book a consultation appointment, call our office at 657-384-2787.