Dental Implants Huntington Beach CA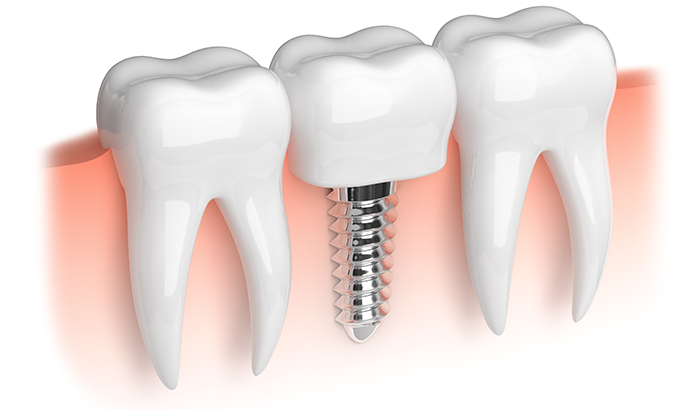 At Surf City Oral and Maxillofacial Surgery we offer several implant-related treatments to replace one or more missing teeth.

We specialize in dental implant treatment because we believe that dental implants are the ideal solution for preventing bone loss and maintaining good oral health.


What Is A Dental Implant?

A dental implant is a titanium screw that we surgically embed deep into the jawbone.

Once the implant is in place, it will slowly fuse to your jaw through the process of osseointegration.

After the surgery and a brief healing period, the implant screw will be able to support a restoration against the strongest forces of your bite.

Dental implants can be used to support a single crown, a partial bridge, and a full-arch restoration.


Benefits of Dental Implants

Dental implants offer a state-of-the-art solution for replacing missing teeth, closely mimicking the look, feel, and function of natural teeth.

Unlike dentures or bridges, dental implants provide a permanent base for fixed replacement teeth.

They are designed to fuse with your bone, becoming a sturdy anchor for new teeth and preventing bone loss.

This fusion not only helps the implants feel more natural but also provides the strength to eat all your favorite foods without struggling with pain.

Additionally, dental implants can help patients preserve facial structure, preventing the bone deterioration that occurs when teeth are missing.

The benefits extend beyond aesthetics and functionality; dental implants can significantly improve oral health without affecting the surrounding teeth, a major advantage over conventional bridgework.


Who Is A Candidate For Dental Implants?

Determining candidacy for dental implants is a critical step in ensuring successful outcomes.

Ideal candidates are those with one or multiple teeth who are looking for a durable and long-term solution.

Good oral health, adequate bone density to support the implant, and healthy gum tissues free of periodontal disease are essential criteria for implant procedure.

However, thanks to advances in dental implant technology and techniques, even those who have been previously told they were not candidates, such as individuals with bone loss or certain health conditions, may now have options through bone grafting and specialized dental implant types.

We conduct a thorough evaluation, including medical history, oral examination, and advanced imaging, to ascertain suitability for dental implants.

Our goal is to provide a comprehensive overview of your dental health and tailor a treatment plan that not only restores functionality but also enhances your smile's aesthetic appeal.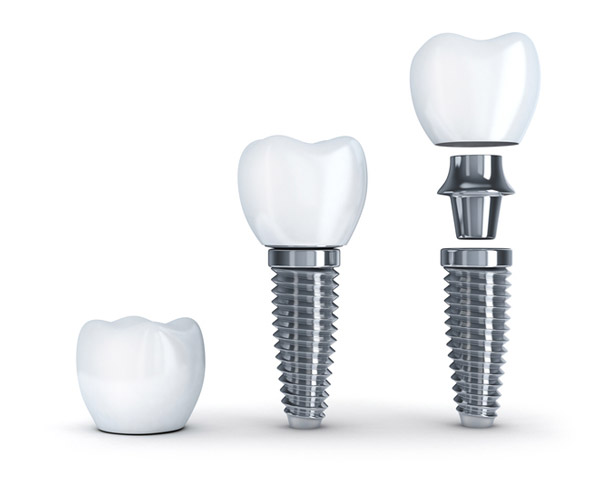 The Dental Implant Process


The process of getting dental implants involves several stages, tailored to provide the most durable and natural-looking results.

Initially, a comprehensive dental evaluation is conducted by your oral and maxillofacial surgeon, including X-rays and, when necessary, 3D images and models of your jaw.


Dental Implant Procedure

The oral surgeon will then surgically place the tooth implant post into the jaw bone in the location of the missing tooth, which requires a period of healing to allow the implant to integrate securely with the bone—a process known as osseointegration.


Dental Implant Placement

Once healed, an abutment is attached to the post frame, which will hold the new tooth. Finally, a custom-made dental crown, designed to match your natural teeth, is affixed to the abutment, completing the tooth restoration.

Throughout this process, patients are given care instructions and support to ensure the best outcome after dental implant surgery.


Aftercare

Proper aftercare is crucial for the longevity and success of dental implants.

After the surgery, dental implant patients may experience some common discomforts such as swelling, bruising, minor bleeding, and pain, which can be managed with medications prescribed by your oral surgeon.

Regular dental check-ups and cleanings are also essential to the healing process, allowing the dentist to monitor the dental implants and address any issues promptly.


Types of Dental Implants

Dental implants have revolutionized restorative dentistry by offering various types to accommodate different dental conditions and patient preferences.

Understanding that each smile is unique, our practice provides a range of implant types designed to cater to diverse needs.

From single tooth replacement to full arch restoration, each type of dental implant procedure comes with its specific characteristics and advantages.


Dental Implant Surgery

We prioritize a personalized approach, and our comprehensive assessment ensures that we recommend the best type of dental implant treatments to meet your individual requirements and health circumstances, ensuring seamless integration with your natural oral structure and optimal functionality.


Dental Implants Huntington Beach CA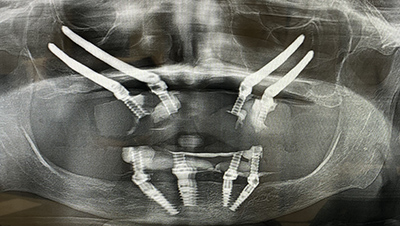 All-On-4 Dental Implants

We offer the All-on-4 treatment concept for patients missing all or most of their teeth.

As the name suggests, this full-arch dental implant restoration only uses four implants to support the entire bridge.

The posterior (back) implants are placed at an angle to utilize the strongest part of the jawbone.

Other full-arch restorations usually require six to eight dental implants.

Thanks to the revolutionary new technique, All-on-4 is much more effective and minimally invasive than other options.


Implant-Supported Dentures

An implant-supported denture is similar to All-on-4 but usually requires more implants.

We may recommend an implant-supported denture if you want a better alternative to traditional dentures.

Because it is not secured by implants, many patients experience difficulty eating, discomfort, and even embarrassing slips with traditional tooth replacement options like dentures.


Dental Implant FAQ

We believe patient education and proper dental care is the cornerstone of good oral health.

During your initial appointment, our surgeons will be happy to answer any questions you have regarding dental implants.

This is also an excellent opportunity for you to voice any concerns. Staying informed can help you better maintain your restoration and prevent potential problems.


Teeth In A Day

Today, Surf City Oral and Maxillofacial Surgery can help to provide you with a much more natural, and immediate restoration to your smile, and your quality of life, with Teeth in a Day dental implants.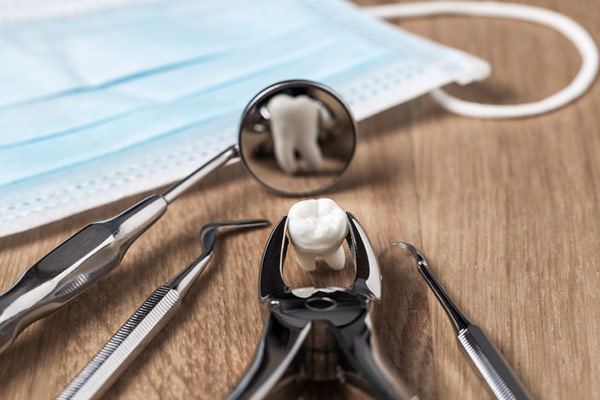 Tooth Extraction

Our oral surgery practice is equipped to perform tooth extractions specifically tailored to pave the way for dental implants. Recognizing that each case presents its own set of complexities, we approach extractions with a strategic eye, ensuring that we lay the optimal groundwork for a dental implant.


Bone Grafting

For patients who lack the necessary bone structure, we offer bone grafting procedures to create a solid foundation for implant placement.

This advanced treatment involves augmenting the jawbone with a graft material, which then fuses and stimulates new bone growth over time.

By providing this service, we expand the possibilities for our patients, making dental implants a viable option for a wider range of individuals in need of implant restorations.



Schedule A Dental Implant Consultation

Whether you need full mouth dental implants or just a single tooth replacement, explore your options and receive a personalized estimate for dental implant cost at Surf City Oral and Maxillofacial Surgery today!

Our team is ready to guide you through the choices that are right for your smile. Call 657-384-2787 today or contact us!