Local Anesthetic For Wisdom Teeth Removal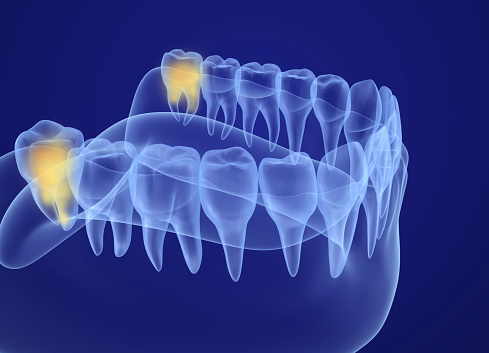 The reason your third molars are called wisdom teeth has nothing to do with the sudden imparting of wisdom. These teeth are present at the back of your upper and lower jaw and come in during the late teens to early twenties, although the time is different for everyone. Two wisdom teeth on top and two on the bottom complete the 32 adult teeth.

Sometimes, wisdom teeth cannot erupt at the correct angle, and your dentist might fear that these teeth will disrupt the neighboring teeth or impact your bite. This disorder is known as wisdom teeth impaction.


How are Impacted Wisdom Teeth Treated?

At Surf City Oral and Maxillofacial Surgery, Our surgeons treats the impacted wisdom teeth by extraction or, in severe cases, coronectomy. Coronoctomy is grinding tips of your wisdom teeth to prevent them from creating additional dental problems. Sometimes, the impacted wisdom teeth do not require treatment.

Your dental professional will decide how to treat your wisdom teeth while keeping you safe and comfortable during the extraction. The options for sedation and anesthesia vary according to each case, individual needs, and the patient's health history.


Use of Local Anesthetic

Local anesthesia uses drugs to numb a specific body area. It comes in topical and injectable forms and is regularly used for simple procedures, including wisdom tooth removal, stitching a cut, repairing a bone, or performing certain biopsies.

The patient is alert and awake during the procedure, but they don't feel any pain. The only indication felt by them is light to medium pressure. Local anesthetics stop the pain signals from the numbed area from going to the brain, ensuring you don't feel pain.

The fact that you're not asleep during the use of local anesthetic makes for easier recovery. However, it is not an excellent choice for major and invasive procedures where the pain level is too much with using only a local anesthetic.


How Long Does it Take to Remove Wisdom Teeth Under Local Anesthetic?

Our surgeons are experienced surgeons and can extract all wisdom teeth within 30 minutes. Some extractions are complex and involve higher impactions; that's why it is recommended to extract those wisdom teeth in the first place.

Therefore, it is essential to take an opinion from experienced wisdom tooth specialists regarding extractions, so this process becomes comfortable and easier for you. With them, you no longer have to worry about complications and trust that they will have a plan of action ready if such a situation arises.


Risks of Using Local Anesthetic

There are a few risks associated with using local anesthesia. Some of them are:
| | |
| --- | --- |
| • | Neurological symptoms (feeling pins and needles in the surgical site) |
| • | Allergic reaction |
| • | Dizziness |
| • | Blurred vision |
| • | Headaches |
| • | Muscle spasms |
| • | Cardiac symptoms (very rare) |

After wisdom tooth removal, using a local anesthetic, the patient can drive home, and the impacted area should be back to normal within a few hours. It is expected to feel temporary difficulties while talking, swallowing, and chewing, all of which resolve themselves.


Book an Appointment With Our Dental Professionals

If your wisdom teeth have started to hurt, it is time to have our dental professionals examine them and chart a course of action to relieve the pain. Call us at 657-384-2787 to book an appointment today!