Intraoral Camera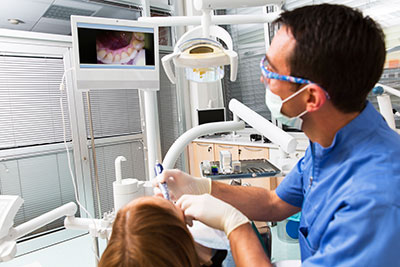 It can be difficult to accurately see what is inside the mouth, as the angle at which the oral surgeon can see the teeth is not always clear enough to fully investigate an oral issue. Intraoral cameras are a valuable device that our oral surgeons can use to properly see the oral cavity. Surf City Oral and Maxillofacial Surgery uses intraoral cameras in many of its procedures and surgeries in order to accurately see what is happening within the oral cavity and give more accurate diagnoses and treatments.


What Are the Benefits of Using an Intraoral Camera?

There are difficult angles involved when examining the oral cavity. When our patients have pain with wisdom teeth, for example, it can be difficult for our oral surgeons to properly diagnose this. An intraoral camera has a magnification function to be able to more accurately see small discrepancies within the mouth. Periodontitis, the advanced form of gum disease, causes pockets to develop between the gum and the teeth, and the pockets worsen with the condition. An intraoral camera can probe these pockets and measure them, which is an important part of monitoring a patient's condition. The measurements of these pockets are very important, and the intraoral camera helps detect if a patient's condition is worsening. The intraoral camera can also take photos, an important tool for monitoring certain sites within the oral cavity. An intraoral camera can be used to monitor a patient's decay within the mouth and to see the effectiveness of a certain treatment via reference photos.


What Procedures Are Intraoral Cameras Used in?

Before most procedures, our professionals will use intraoral cameras to examine our patients' oral cavities to decide and plan how a surgery should go ahead. Using an intraoral camera, our team can look at the biting surface of a tooth before we place a filling. This can help our professionals decide how difficult the procedure will be, and what exactly it will entail. Intraoral cameras are especially helpful in the preliminary stages of treatments and help us decide what other investigative tools our team may need to use. For example, our team does not want to expose our patients to any more radiation than necessary, so an intraoral camera can help our professionals decide whether to use an x-ray or a 3D digital scan. Intraoral cameras can also be used during surgery to allow the surgical team to wield a greater level of accuracy. When placing a dental implant, especially at the back of the oral cavity, an intraoral camera helps our oral surgeons place the implant properly. It quickens the process, and leaves less opportunity for error. It also means if any complications do arise from a surgery, our team can investigate the appliance thoroughly with the magnification function. Surf City Oral and Maxillofacial Surgery uses intraoral cameras to improve the treatment and care our team provides for our patients. You will experience the use of an intraoral camera multiple times during your appointments at our surgery. Our professionals can explain why our team uses an intraoral camera and how it benefits you. To book a consultation appointment, contact our office at 657-384-2787.