CAD/CAM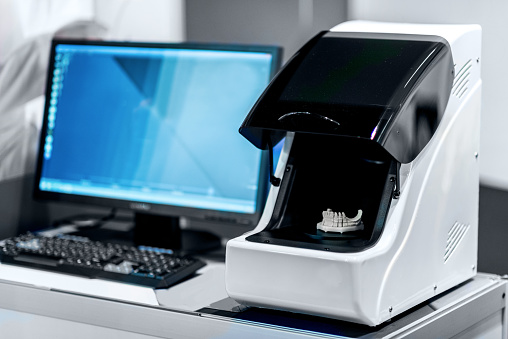 CAD/CAM stands for Computer Aided Design and Computer Aided Manufacturing. In dentistry, CAD/CAM is used to create synthetic teeth through a faster and more accurate process. CAD/CAM is also used to make intraoral appliances, such as dentures, inlays, onlays and dental bridges. Surf City Oral and Maxillofacial Surgery uses CAD/CAM technology to improve the care our professionals can give to our patients by creating better appliances that give more effective treatment.


How Can CAD/CAM Benefit Me?

Patients who are having any form of restoration work or oral appliance can benefit by having their dental work created by CAD/CAM. CAD/CAM technology uses the data inputted from the scanning of a section within the oral cavity to make a custom-fit appliance for the patient's mouth. CAD/CAM is more accurate than conventional methods, which means the end result will be more comfortable. CAD/CAM leaves less room for error, and means that the oral appliance will not cause pain, strain or discomfort when placed in the mouth. Our oral surgeon will always thoroughly inspect CAD/CAM appliances after they have been made, but the majority of the time they are produced exactly how they were meant to be produced. CAD/CAM also creates synthetic teeth and oral appliances much faster than conventional methods. The creation of an implant or dental bridge, which are filed out of a solid block of porcelain, can be done in around 10-20 minutes. This means less waiting time and fewer appointments needed for procedures and surgeries.


How Does CAD/CAM Work?

The way in which CAD/CAM technology works is through the use of an intraoral scanner, which is a device that is placed inside the mouth in order to capture the desired area. When a patient needs a synthetic tooth, for example, the scanner will collect data of the area in which the tooth is missing, and use this data to create a synthetic tooth. Once the data has been correctly inputted, the CAD/CAM software can begin milling the tooth out of the solid block of ceramic. The time for this process depends on whether one tooth is being made, or a whole row, as is required for a bridge. The synthetic tooth is then thoroughly polished, in order to assure it is of correct standard when placed into the patient's mouth. Once it is placed, it needs no extra care or treatment, compared to any other tooth, and should feel comfortable within the mouth. Being made of porcelain, it should be almost indistinguishable from natural teeth. Porcelain gives off a similar gleam to natural teeth, making it the ideal synthetic tooth material. Surf City Oral and Maxillofacial Surgery uses CAD/CAM technology in almost all of its restorative procedures. The software helps our professionals create more comfortable appliances that can be fitted with increased speed and ease. Our team will tell you when we are using CAD/CAM for a treatment, and for what reason, so you can understand why it is being used for you. If you have any more questions on CAD/CAM, please contact our office at 657-384-2787.